What would you like to know about Mike Randazzo?
Lets start in the beginning. Way back in grammar school (Sacred Heart) Mike was a bit of a loner. Oh at home Mike was an entertainer. Well, he loved to sing from a young age. His Mom recalls how he would sit for hours on his rocking horse and sing "Ringo Rango" till the cows came home. Though there weren't many cows in New Jersey where he lived. He would find in the future, with his moms help, a singing voice that took him around the world in High School. Lets not get ahead of ourselves though.
At Sacred Heart there was a Sister Rose. She saw something in Mike that told her he would be an asset to the boys choir. So Mike became a member reluctantly. Little did he know it would bring a lifetime of entertainment to him.

From there Mike joined the band in High School and became a drummer. Not the best in the world but he got by playing the giant base drum to the joy of his band leader. Though Mr. McGrath thought Mike was adequate on the base drum, he knew his talents were elsewhere. With some prodding he convinced Mike to join the Mixed Chorus. Though Mike had dreamed of being the next Buddy Rich, this was not in the cards. So off he went to the chorus
Now here he flourished. Mike loved entertaining and singing. He became one of the best tenors in the choir. He was promoted to the Acapella Choir for his Junior and Senior years at Hackensack High School. This lead to a wonderful experience. His Senior year the choir was invited by the Readers Digest Magazine to go on a tour of Romania and Czechoslovakia This proved to be one of the best things that ever happened for Mike. Three weeks of touring in a communist country were very enlightening The concerts were to say the least interesting. The life experience was priceless.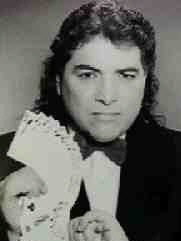 That summer of 72 Mike joined a singing group formed in the shadow of "Up With People." UWP had books out on how to start your own group. Everything was included. "Sing out Tomorrow" was one of the largest groups formed this way. Mike learned much about stage lighting, sound equipment, and entertaining in general while singing and dancing for thousands during the 4 years he was a member.
Then came a family. Mike married and gave up the entertainment for a while. Responsibility is to the family so working for the phone company kept Mike pretty busy, house and food didn't come easy at first. Though Mike missed entertaining he was first and foremost a dad and kept up his side of the bargain
About 10 years into it Mike learned he had more time to get around and decided through a serendipitous happening, he loved Magic. He always loved the art and had a bit of an amateur knowledge of the subject, but never took it seriously enough to think he could do anything with it. Well that changed in 1991.
Finding the International Brotherhood of Magicians and the Society of Magicians Mike found a new avenue to perform. Learning from some of the best in magic Mike embarked in a new career. Magician.
Going to hundreds of lectures and conventions Mike has met and become friends with some of the great's of the magic community. His years entertaining have taught him all he needs to know about performing for a crowd. Mike has also studied improvisational acting now and learned the value of this in his performances of magic. He was also President of Ring #113 of the

IBM for three years.
Today father of a wonderful 29 year old daughter, Mike knows the value of family. Internet provider, designer, systems technician and magician, Mike is a well rounded human being. Not only that, he can dazzle your clients or family with vigor and pizazz.
He has learned that it is very important to have a good laugh once and a while and not to take life so seriously. Do consider Mike for your next event, you will not be sorry and you will bring all these years of entertainment and experience into your home. Your guests will see Mike bring Magic With Emotion into their lives.